Glass Stair Balustrades
Need a glass stair balustrade on the Gold Coast? Look no further than Insular Frameless Glass to finish off your internal and external staircases with sleek and stylish glass.
Trust the #1 Glass Stair Balustrade Gold Coast Installer
Insular are the top glass balustrade Gold Coast installer, and can expertly install glass balustrades for internal and external staircases. All of our balustrades are custom made to suit your exact requirements, with a full design experience offered on all Gold Coast and Northern NSW installations.
Glass Stair Balustrade Options
Glass stair balustrades can be used effectively both inside and outside the home, with a range of fixing options to complement your style. Options include:
Timber Tread Fixed
Insular's timber tread fixed system is an excellent solution for stringer staircases, or floating staircases with an open design where you can see each individual tread (step). With this option, we typically use round face mounted stand offs on each step to secure the glass panels in place.
This is a frameless glass balustrade, which perfectly complements modern decors.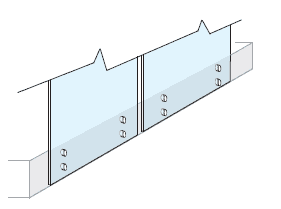 Side Mounted
Typically used for balconies and internal voids, the side mounted option is one of our most popular designs. With an attractive finish, side mounted stand offs are used to attach the glass, creating a fully frameless balustrade that will become a stunning feature within your home.
Glass Balustrade Railings
To comply with balustrade building standards, a custom made stainless steel handrail is attached to staircases and any balustrade where there is a fall greater than 1m. Railings are installed along the top or offset against the side of the panels. This creates a balustrade that is compliant, functional and looks good too.
Unlike other companies, Insular ensures that all of our glass balustrade rails are welded together onsite (not glued), providing maximum strength and durability for added piece of mind.
Enjoy Peace of Mind with the best Glass Stair Balustrade Gold Coast Installers
With Insular, you know you are getting the best balustrade on the Gold Coast. Our Benefits Include:
12mm thick Australian glass panels custom made in any size & shape
Form 15 / Form 16 compliance certificate issued for all work
Australian Standard 1170.1 Balustrades, Stairs & Handrails compliant
Australian Standard 1288-2006 Glass Balustrades compliant
Full design service
Side mount, core drill, top fix, or timber tread fixing options
Large range of top and side rails to choose from
Handrails all welded onsite (not glued)
Residential and Commercial customers welcome
Side mount glass specialist