Pool Fencing
Need a new pool fence? Insular has a range of pool fencing options to suit your needs. Contact us today and we would be happy to discuss your requirements.
Find your Perfect Pool Fence
Insular are the Gold Coast Glass Pool Fencing experts! Because we use the highest quality glass pool fence panels in the industry, all of our pool fence installations are guaranteed to meet the Australian Standards for Swimming Pool Barriers (1926.1-2007 QLD / 1926.1-2012 NSW). Our extensive knowledge of  pool safety laws means we can easily design a fence that is compliant, functional and looks good too.  We specialise in pool fencing for new swimming pools , and have a range of Frameless and Semi Frameless Glass Fencing options to choose from.
Frameless Glass Pool Fencing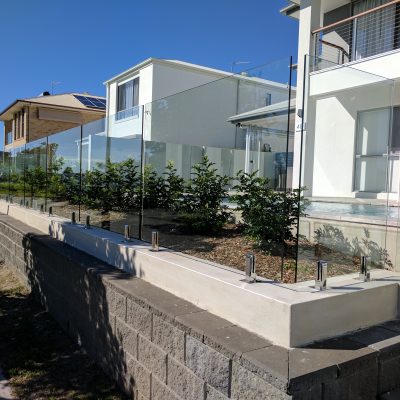 A frameless glass pool fence is the ultimate luxury in pool fencing, perfect for modern landscapes and prestige homes. With frameless glass, the fence panels are held securely in place with sophisticated but unobtrusive stainless steel spigots, allowing you to enjoy an uninterrupted view of your landscape.  This is by far our most popular choice, with a range of hardware options to choose from to match your decor. Frameless glass gates can be easily added for ease of access.
Semi Frameless Glass Pool Fencing
With a semi frameless pool fence, powdercoated aluminium posts are installed between each panel of glass, providing a more traditional alternative to a fully frameless pool fence. Semi frameless glass pool fencing can be a great solution for timber decks, combining the streamlined look of glass with low maintenance aluminium posts. Posts are available in black or silver to coordinate with the existing style of your home. This is a great mid-range option available now.
Aluminium Pool Fences
With our large range of aluminium pool fencing, we can provide a cost effective but stylish finish for any pool. All of our aluminium fencing is manufactured to meet the strict Australian pool fencing standards, with a tough 6 point weld system on each panel and a limited manufacturer's lifetime warranty. Choose from our standard range of black, silver or woodland grey, and enjoy an affordable, lightweight and non rusting fence. This is a fantastic choice if you are close to coastal areas or have a salt water pool. On larger properties, using a combination of aluminium fencing and glass fencing can be a great way to stretch the budget and get more bang for your buck.
Contact Insular, the Gold Coast Pool Fencing Specialists, today