Insular frameless glass pool fencing is the ultimate is style and luxury for your swimming pool area. Using the highest quality duplex 2205 grade stainless steel spigots with 12 mm clear tempered Grade "A" glass all from our Australian supplier, you can ensure that our product will comply with Australian safety standards 1926.1-2007 for new swimming pool fencing and last with our coastal weather climate here on the Gold Coast.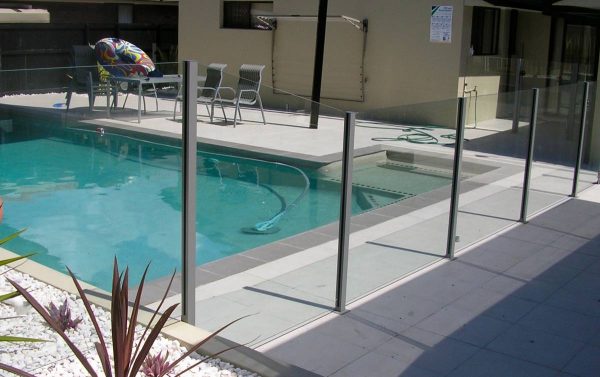 Insular semi frameless glass pool fencing remains a popular and cost effective solution for pool fencing. Using our square powder coated posts standard in black or silver with 10 mm clear tempered Grade "A" glass all Australian made in accordance with AS 1866:1977, Insular will have a simple supply and installation option for your swimming pool area in either core drilled posts and base platted posts when installing to a deck or balcony area.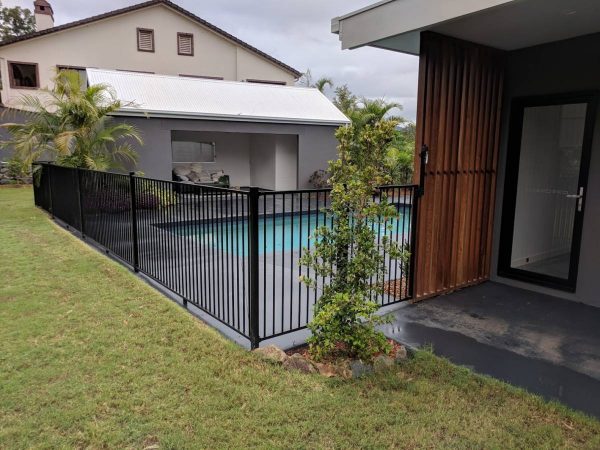 With our large range of aluminium flat top pool fencing, we can provide a cost effective but stylish finish to any pool. All our panels meet the strict Australian pool fencing standards, come with a 6 point weld system and limited manufacturer's lifetime warranty. Select from black, silver or woodland grey from the standard range or the perfect colour from the Dulux powder coat colour range, and enjoy a cost effective, lightweight and non rusting fence.
Why use Insular Patios & Fencing to fence your pool?
We will work in with you, your pool builder, and pool certifier to ensure your fence is built to the highest standards and meets all of the recommended pool fencing guidelines. For new pool constructions, we will ensure your pool fence passes the inspection first time, every time so as not to delay the completion of your project.
Our Benefits Include:
All our fencing products and components are certified to Australian Standards 1926.1 2007

We are up to date with all the current rules and regulations for pool fencing
We will provide you with a competitive quote and value for money
We come armed with a range of unique ideas and designs to provide the best fencing solution for you
Choose from our complete range of Aluminium, Semi Frameless Glass, Frameless Glass or a combination of all three
Form 15 – Compliance Certificate for Building Design or Specification issued on completion of all work
Electrical Earthing Of Pool Fencing
It is a requirement under AS 3000 – 2007 that all metal features within 1250 mm of the waters edge of pools and spas must be earthed to avoid electric shocks or in rare cases death, this includes glass fencing that has metal features greater than 100 mm and all aluminium pool fencing. All of our electrical work is carried out by a qualified electrician, which ensures compliance with electrical earthing standards on all installations.
Related information for you – Queensland Government Electrical Safety and Brisbane Times news article on "How pool fences could be deadly"
Check out our Pool Safety Checklist to ensure your pool fence meets the current Queensland government rules and regulations. Not sure? Contact us and we'll be happy to provide you with a quote to ensure your fence complies.
View our latest completed work below